Webinar: High Throughput Drug Discovery for Rare Neurodegenerative Diseases: Let the Neurons Speak
August 11, 2022 @ 7:00 pm

-

8:00 pm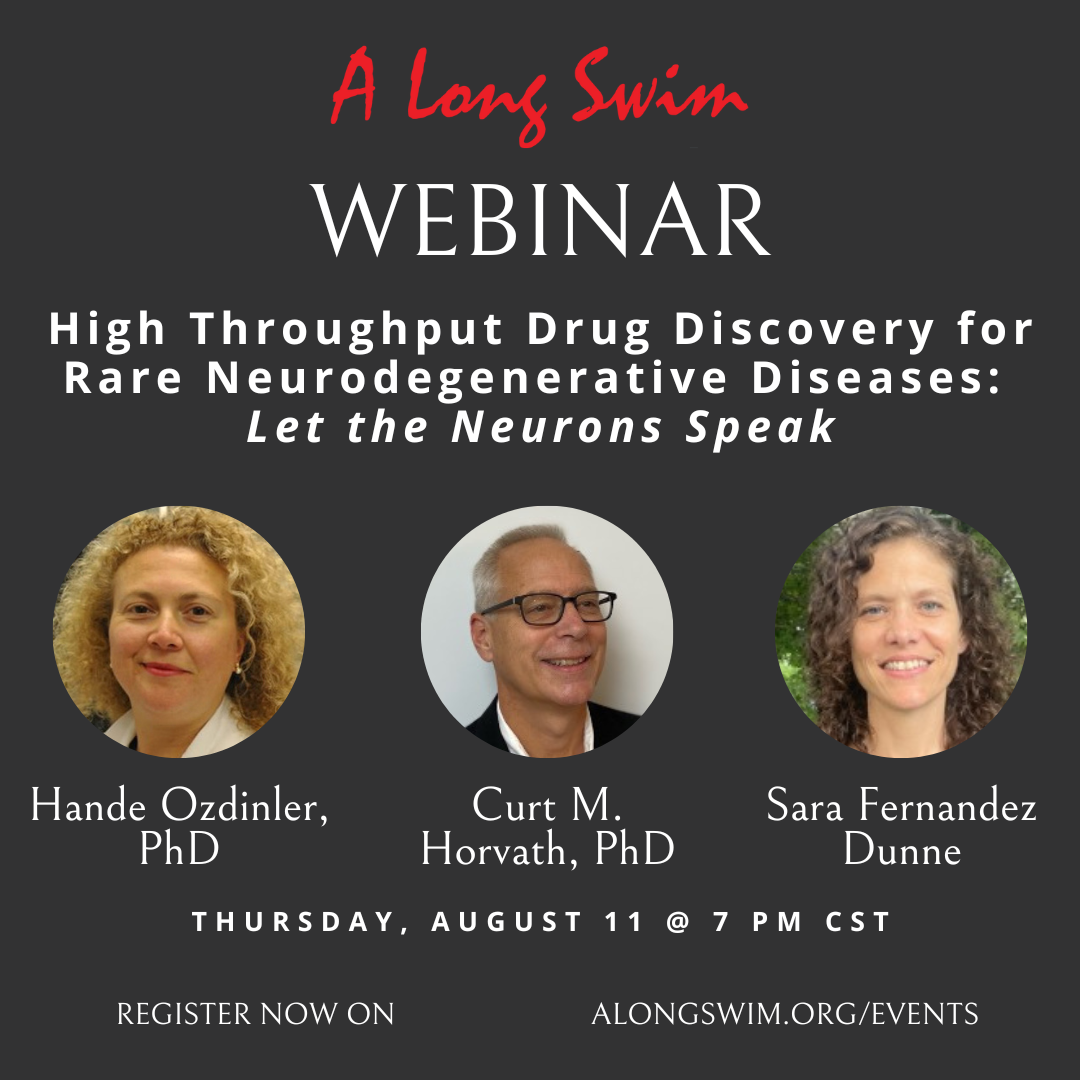 Join A Long Swim on Thursday, August 11, 2022, at 7:00 pm CST for an intimate talk with Dr. Hande Ozdinler, Ph.D., Sara Fernandez Dunne, and Dr. Curt M. Horvath on high throughput drug discovery for rare neurodegenerative disease. This event is completely virtual, open to the public, free to attend, and will be held on Zoom.
Moderated by Doug McConnell, A Long Swim Co-Founder, hosted by Dr. Hande Ozdinler, A Long Swim's Scientific Director and Associate Professor of Neurology at Northwestern University's Feinberg School, with guest speakers Sara Fernandez Dunne, Research Core Manager of Northwestern University's High Throughput Analysis Core, and Dr. Curt M. Horvath, Professor of Molecular Biosciences at Northwestern University.
For questions or trouble registering, contact Kate Himes at [email protected]. 
---
Sara Fernandez Dunne is the Research Core Manager of Northwestern's High Throughput Analysis Core.  She has sixteen years of experience in the field of high throughput (HTS) and high content screening (HCS). She is an expert in all aspects of HTS and HCS. Beyond her work in screening, Sara has extensive experience in neuroscience and cell biology. After receiving a master's of science degree in neuroscience from Northwestern University in 2003, she worked in the laboratory of Dr. Bill Klein, spending four years focused on Alzheimer's research. Her background of bench research, plus previous experience in industrial customer service, and seven years of field biology work in exotic locations such as the rain forest of Panama and the boreal forest of Alaska, provides her with a unique perspective that informs her approach to managing the core and screening projects.  As an endorsement of her dedication and effort, she was named one of seven finalists for Northwestern's Employee of the Year in 2013.
Curt M. Horvath is a Professor of Molecular Biosciences at Northwestern University with appointments in the Departments of Molecular Biosciences, Microbiology and Immunology, and Medicine, and serves as a basic science leader for Robert H. Lurie Comprehensive Cancer Center.  He is the Director of the Northwestern Center for Cell, Developmental, and Systems Biology and the Northwestern High Throughput Analysis Laboratory.  With over 25 years devoted to cytokine signal transduction, virology, innate immunity, and gene regulation, his research interests include cytokine-JAK-STAT and RLR-interferon signal transduction and mechanisms of cytokine-inducible gene regulation in the human immune response and in cancer biology.  Professor Horvath obtained his PhD from Northwestern University in 1992. He has won numerous awards and honors, including the Research Scholar Award from the American Cancer Society in recognition of scientific excellence in the investigation of cancer biology.  He was awarded the Jean Ruggles Rosomer Chair of Cancer Research, and was a Program leader in the NIAID Immune Mechanisms of Virus Control U01 program from 2009-2014.  He has served as consultant to projects including the CBC, NIH, Merck, and Ligand pharmaceuticals.  Dr. Horvath is an active and highly committed members of the International Cytokine and Interferon Society (ICIS and its predecessors, the ISICR and ICS), serving multiple leadership roles, and was recently elected to a second term on the ICIS Executive Council.  In this capacity, he has spearheaded new programs for promoting diversity and inclusion among the ICIS leadership in the form of new trainee council positions.
The Horvath lab focuses on the molecular events controlling inducible gene regulation, including antiviral host responses including RLR-MAVS and IFN-JAK-STAT signal transduction.  The work has brought new insights into mechanisms of antiviral immunity, with focus on the production of and response to cytokines and especially interferon. Expertise includes biochemistry, molecular cell biology, mammalian signal transduction, pattern recognition, innate immunity, virology, and regulated gene expression in both normal cellular function and during acute virus infections and in cancerous transformation.  Professor Horvath is well known for his studies of RNA virus-host interactions with Orthomyxoviruses and Paramyxoviruses.  His lab was among the first to recognize viral immune evasion and characterize the molecular mechanisms underlying the targeting of STAT proteins and IFN antagonism, and to identify virus-induced microRNAs.  His current research on pathogenic RNA recognition and cytosolic antiviral signal transduction includes investigation of virus-host interactions, protein-RNA interactions, and the molecular mechanisms underlying interferon production and cellular antiviral responses.