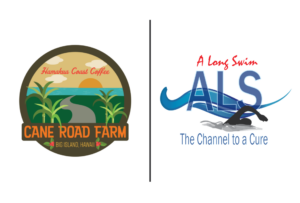 In an unbelievably gracious gesture, a boutique grower of Hawaiian coffee, Cane Road Farm on the Hamakua Coast near Mauna Kea on the Big Island, has offered to support A Long Swim in a unique and creative way.
Cane Road Farm is offering to donate 100% of its sales for one-half of its 2020 crop to A Long Swim!
If you are a coffee drinker, you know that Hawaiian coffee is perhaps the most sought after in the world.  There is magic in the combination of the minerals in which the plants grow, the sunlight that they enjoy every day, the rainfall for which Hawaii is famous, and the trade winds that blow steadily.  Hawaii is paradise, whether you're a marathon swimmer, a sun worshipper, an anthropologist, or a coffee bean!
A member of the A Long Swim team has been a close friend for more than 50 years.  We knew each other from school, swimming, Camp Edwards, and the University of Illinois.  He and his family moved to the island of Hawaii (across the island from Kona, where the Ironman World Championships are held) a few years ago, and they decided to try their hand at being coffee farmers.  They learned a lot and surprised us a bag of these precious and magnificent beans at a meeting in cold Chicago a year or so ago.
The coffee is simply out of this world.  It is hand-picked, carefully processed, and specially roasted.  They said it the best, "Our Hamakua Coast coffee has a rich smooth flavor with a pleasing dark chocolate finish. Sip a bit of Hawaii sunshine in each cup."  It is so good, we feel like it should have a special name, like "Elixir of Haleakala" or "Kamehameha's Breakfast Blend" or something.  Then again, maybe not; we think Cane Road Farm sounds just perfect.
And then, they called us with this offer.  We are just flabbergasted.  Everyone is on edge right now about protecting our loved ones from coronavirus, and we are particularly focused on those who are immunocompromised.  People with ALS are particularly susceptible to a disease like this, and we know the feelings of panic and powerlessness that go along with keeping them safe. Read more on that here.
Please fill your coffee pots with this tremendous coffee.  Every pound you buy will put us closer to finding a cure for ALS.  Every pound you buy will accelerate the date when we meet an ALS survivor.
To order your coffee, go to www.CaneRoadFarm.com, and learn the story of how they process these beans. Then, click on the "Shop" button and order away.  100% of what you spend will be sent to A Long Swim, and we simply couldn't be more grateful.
Thanks, Chris and Hope – you guys are the best.
#TheCureIsOutThere